The Sacred Heart of the Cosmos: Mission Spirit in Modern Time
Start Date:
End Date:
Location:
The Maryknoll Sisters Center
10 Pinesbridge Road
Ossining, NY 10562
Join with award winning artist and author, Brother Mickey McGrath as he shares his insights and inspirations about being sent forth in our modern times, through painting and artwork, and the stories behind his images.
From the cave to the cosmos, Mary, the first missioner, "brings Christ into the world". Her life is essential to our understanding of mission, and has been for many, at the very heart of our prayers and devotions. Brother Mickey recognizes those traditions, and will help us look at them in fresh new ways, relevant to our anxious and fast moving times.
Women across the ages in Church history, including Mary and Elizabeth; the four women Doctors of the Church (Hildegard, Catherine, Teresa, and Therese); and Dorothy Day and Sister Thea Bowman in our own time; are sources of hope, creativity, and prophetic inspiration. They will re-energize our own mission spirit.
Baptism was the beginning of our Mission Journey and was intensified by our religious profession. While the journey is unique to each of us, it is also a shared journey. Earth, our Common Home, is filled with God's gifts to us. We show our gratitude by recognizing and respecting His image and presence by caring for all of His creation. Although our world becomes smaller through advances in technology, God's presence continues to expand in the universe- from the cave of Christ's Incarnation, to the tomb of his Death and Resurrection, to the cosmic tabernacle of Pentecost. It connects us and draws us together into the Cosmic Heart of Christ.
The Heart of Christ is a place of love, forgiveness and mercy. By entering into that heart which encompasses the whole universe. We can no longer deny those things to one another. That Heart is a place of Beauty which brings hope and joy and color to human spirits, weary from suffering and fear. Through his artwork, Brother Mickey will take us along on his mission travels through Guatemala, Kenya, India, and Camden, NJ, to show us time and time again, the power that Beauty has to heal and to encourage us to search for it in everyone.
Finally, a hands-on creative activity will provide each participant the opportunity to graphically represent the essence of these retreat days, in a cosmic mandala. This artistic endeavor is a chance for each individual to pull together and make concrete their personal spirit of mission through the Sacred Heart of the Cosmos.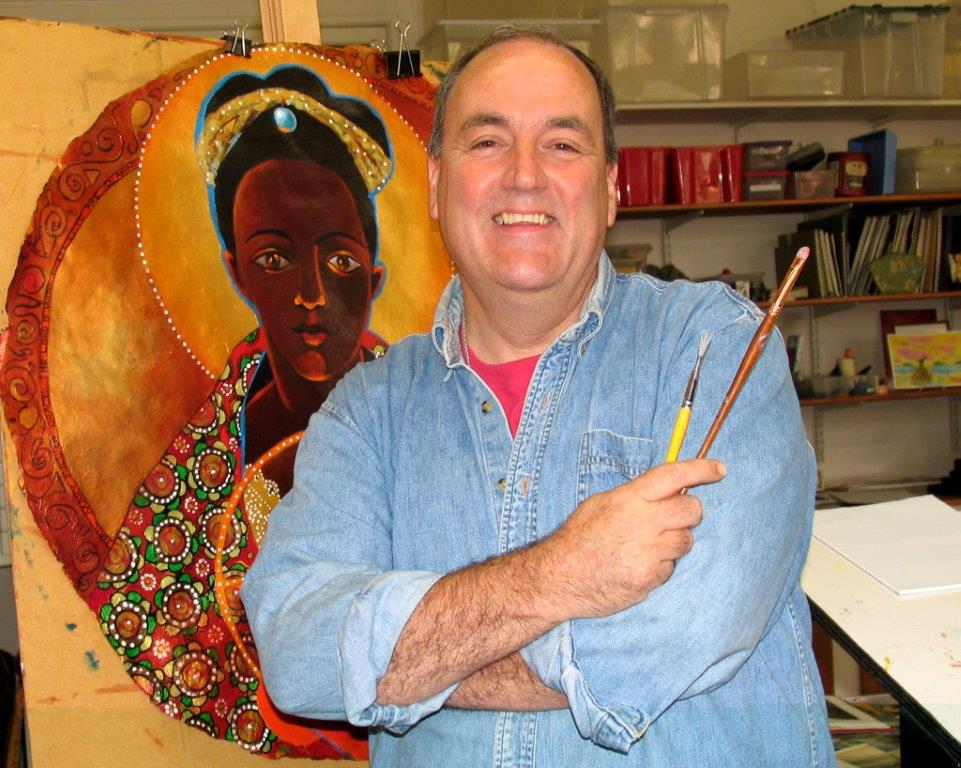 Resource Person: Bro. Mickey McGrath, OSFS, MFA, is an artist, writer, speaker, and story-teller who works throughout the United States and Canada. He currently lives and works in Camden, NJ. Experienced artist and author Bro. Mickey is the creator of eighteen award-winning books of his own paintings with written commentary and prayers. All have a religious focus with such subjects as Jesus, Mary, and various Saints including Joseph, Therese of Lisieux, Dorothy Day, Sr. Thea Bowman, St. Francis de Sales, and Pope John XXIII. He has also created two best-selling books inspired by the writings and tweets of Pope Francis: Dear Young People and Our Common Home. His most recent published book, Drawing Close to God, is a coloring book of saints and heroes for adults and children alike which has received several awards from Christian publishers. Over the years, his illustrated articles have been published in St. Anthony Messenger, Commonweal, USA Today, and America. His most recent article, "We Need Images of the Black Madonna Now More Than Ever" appeared in the January 2018 issue of America (and online in November 2017). Bro. Mickey also creates paintings on commission for churches and schools around the country. His original paintings of the Sacred Heart, Our Lady of Hope, St. Monica, four Latina Madonnas, and St. Vincent de Paul are in churches around the Camden Diocese where he has lived for the last eight years. For the last several years, Bro. Mickey, with the help of a wide range of volunteers, has been overseeing the creation of murals for a homeless shelter in Camden called Joseph's House. In 2017, he created an outdoor painting of St. Francis De Sales for St. Francis de Sales Church on 96th Street and Lexington Ave in NYC.
For the past several years, Bro. Mickey has been posting a Monday morning devotional image on his Facebook page and website, usually illustrating a quote from Pope Francis. These images are meant to encourage private devotion, make people smile, and/or promote Catholic social teaching on such subjects as immigration reform, DACA, and racism. His highest number of views for any one image was over 220,000 people.
Recommended Readings:
McGrath, OSFS, Bro Mickey. Blessed Art Thou: Mother, Lady, Mystic, Queen. World Library Publications, 2007.
This Little Light: Lessons in Living from Sr Thea Bowman. Orbis, 2008.
Saved by Beauty: A Spiritual Journey with Dorothy Day. World Library Publications, 2012.
Dear Young People: Inspiration from Pope Francis for Everyone. World Library Publications, 2015.
Our Common Home: Visual Meditations of Pope Francis Laudato Si '. World Library Publications, 2017.